Brave Software developed a privacy-focused browser, that (unlike competitors) blocks all online advertisements and web trackers by default.
Brave Rewards pays out content providers crypto based on views.
In order to get paid, you must get Brave Creator Verified. A blue check indicates if Brave granted a given website Brave Verified Creator status.
In the screen grab below, you will see that this site received the Brave Verified Creator blue check.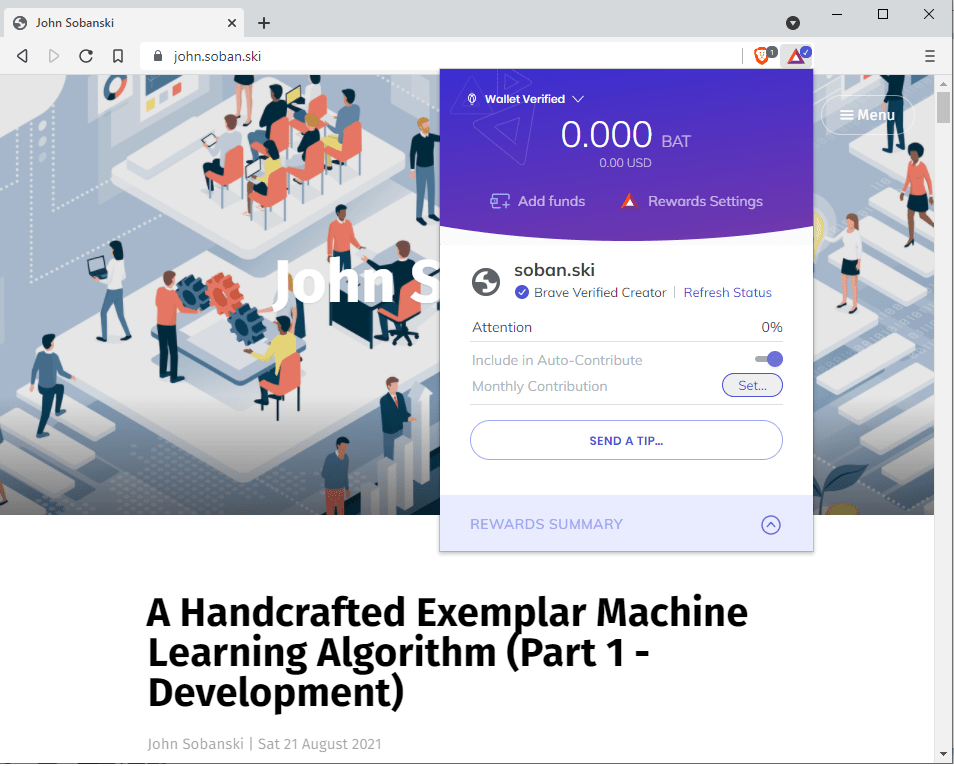 This blog post walks us through the process of receiving that blue check.
Install the Brave Browser
To reap the benefits of Brave, we must first install the software.
Open the Brave Download Page in a new tab and click the Download button.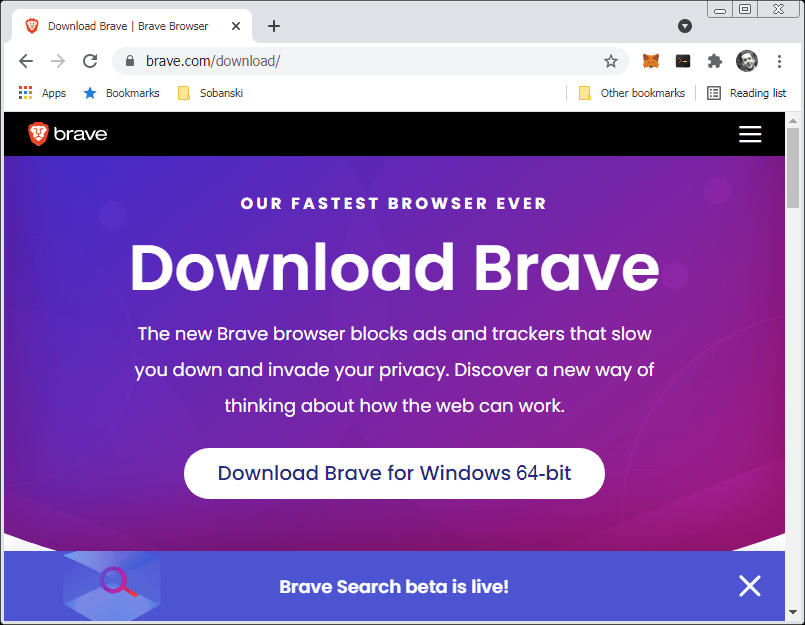 After the download completes, Open the installer to start installation.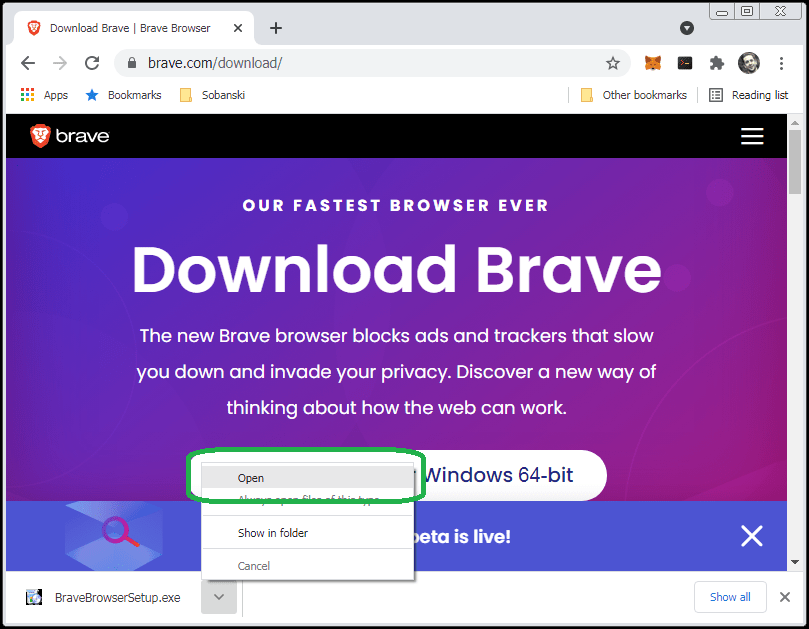 Click Run.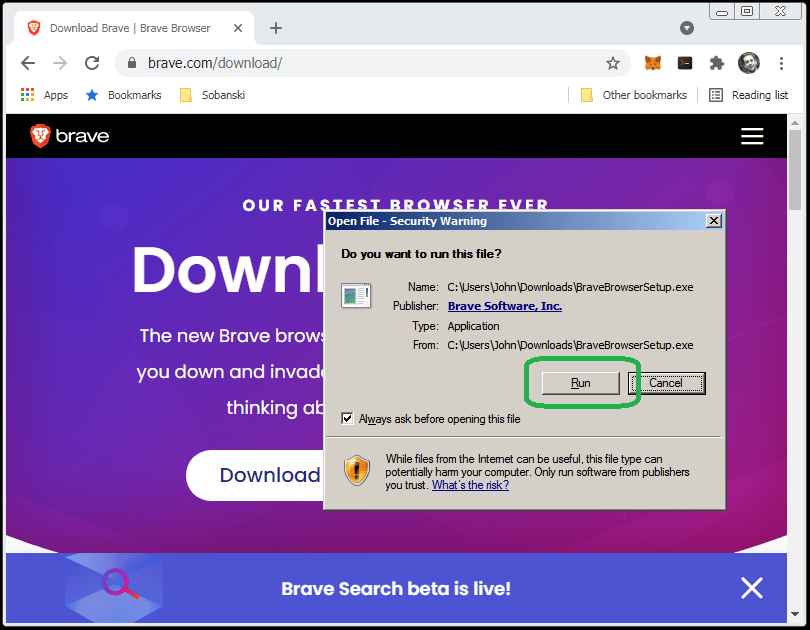 The Installer provides status through the installation.
It first phones home to the Brave download repository.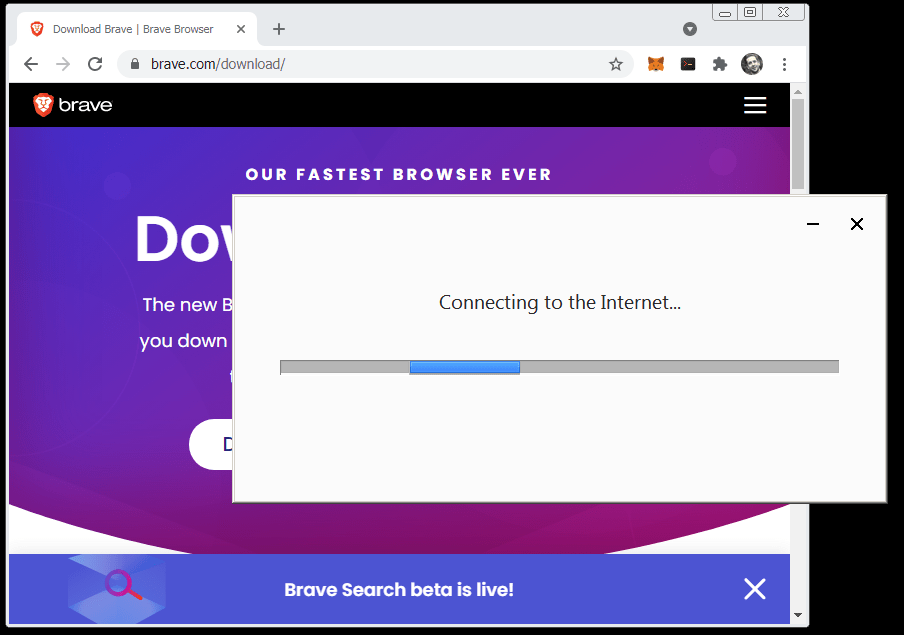 The Installer then downloads the binary.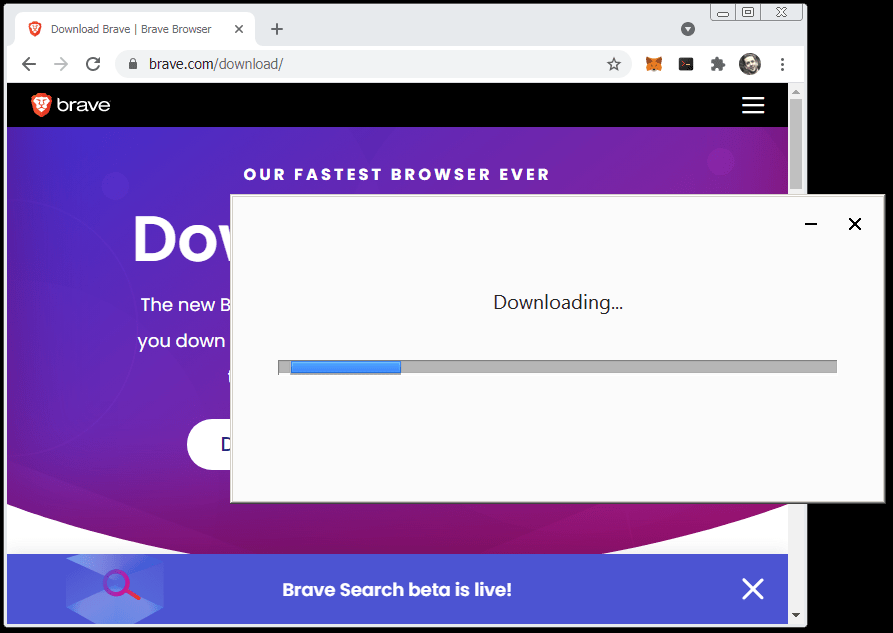 It checks your Operating System.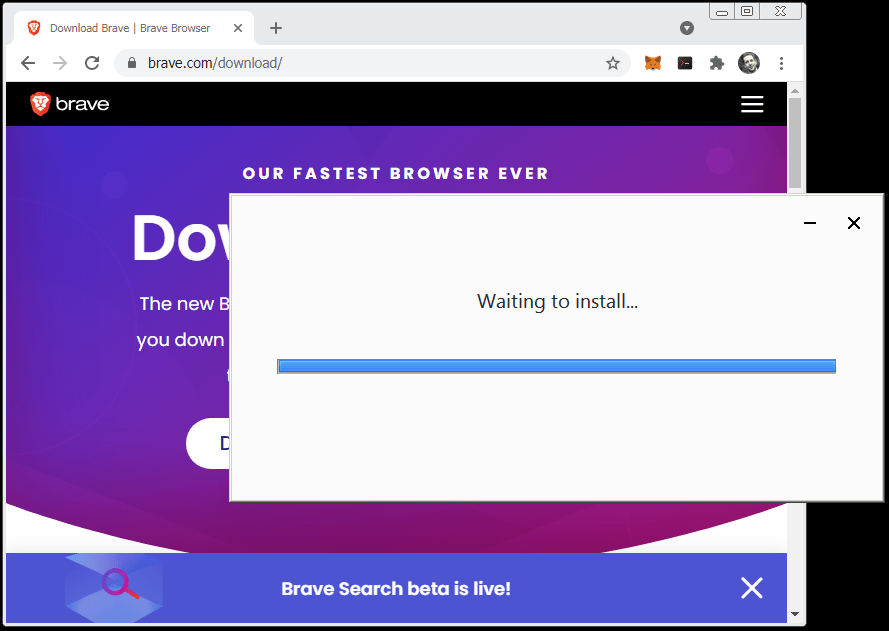 The Installer then begins installation.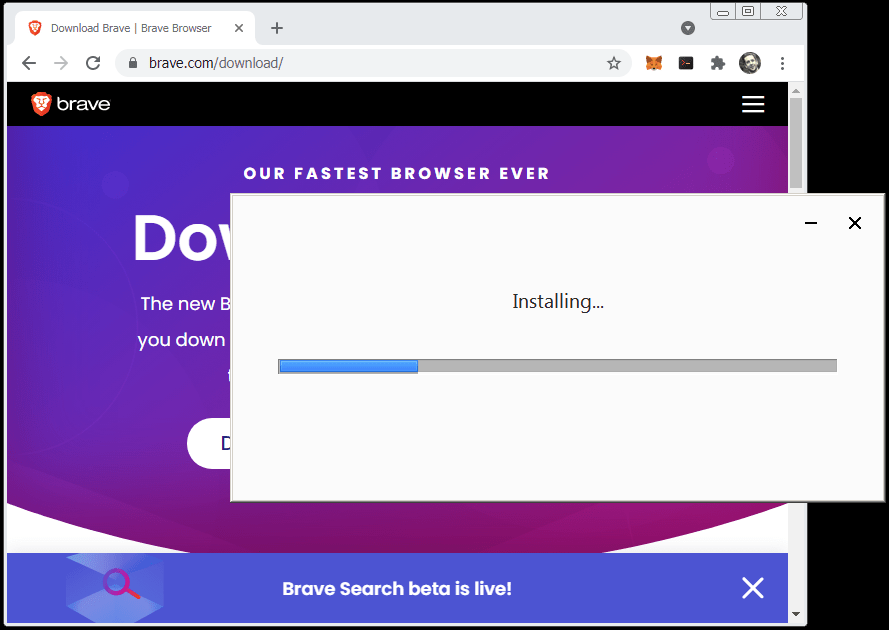 After the Installer completes, it launches the Brave Browser.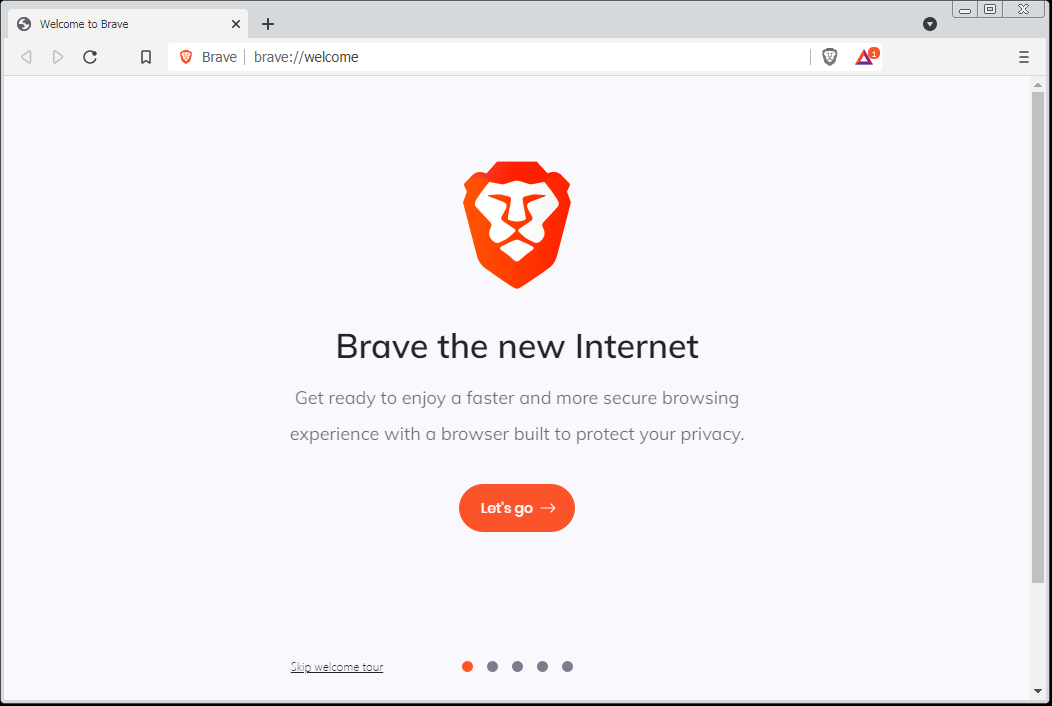 Configure the Browser
Brave allows you to import bookmarks, apps and history from another browser. Select Chrome Person 1 if you previously used Chrome.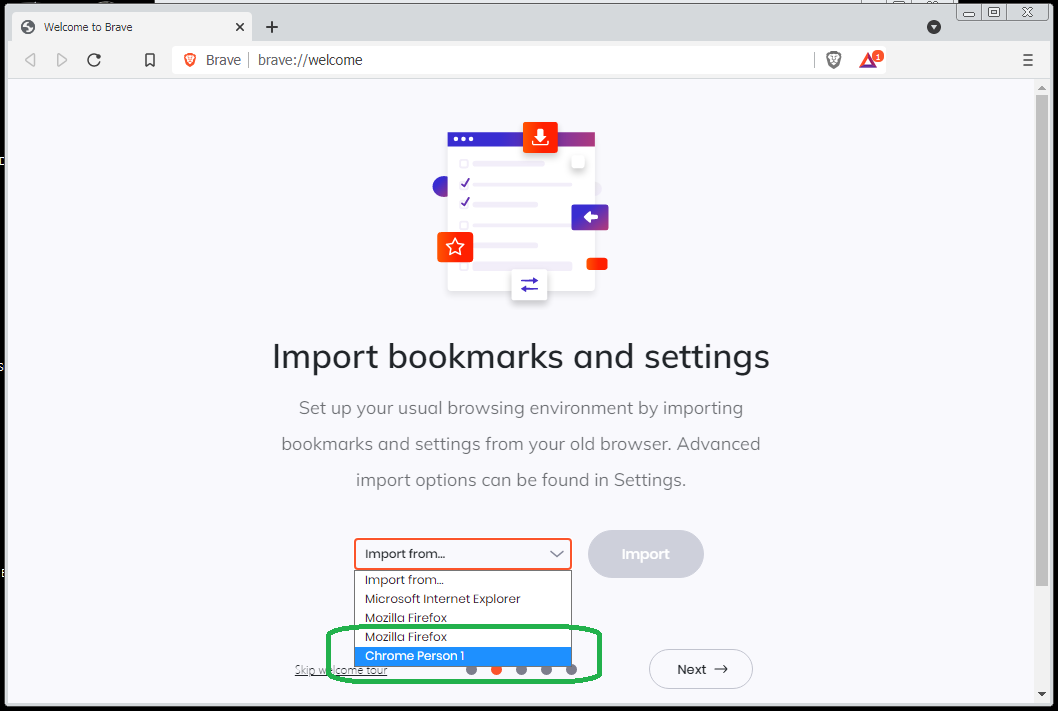 Brave downloads your Chrome plugins. You will see a series of completed Downloads (one for each plugin) with filenames that include random characters.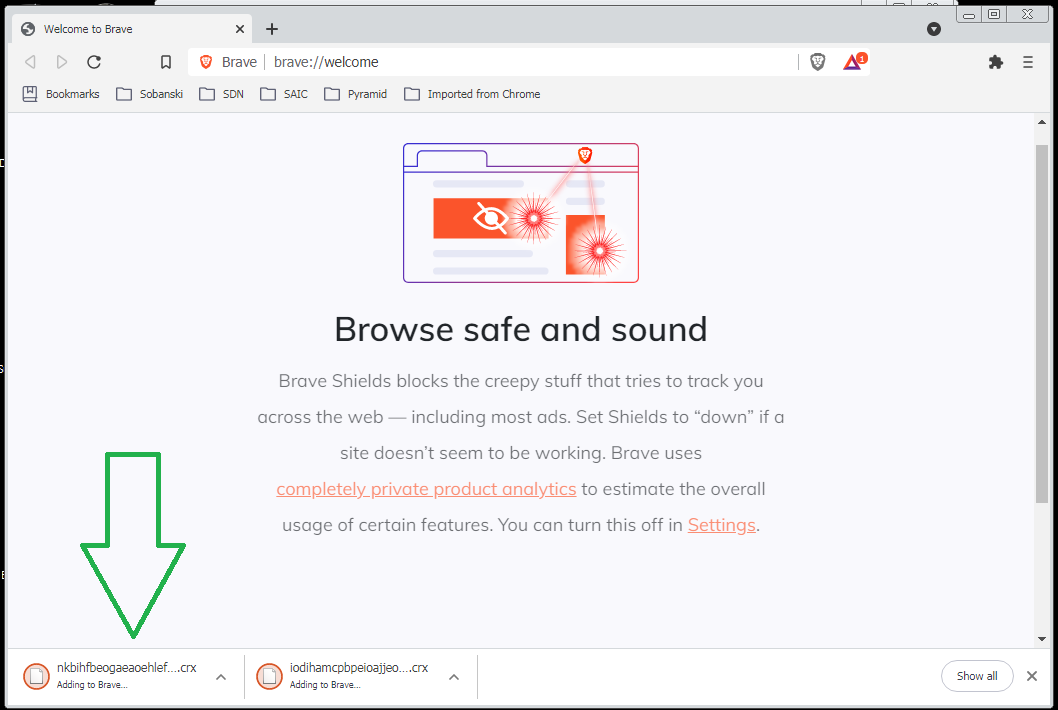 Select DuckDuckGo for your default search engine. DuckDuckGo provides a private, secure Internet search service, free from trackers and spyware.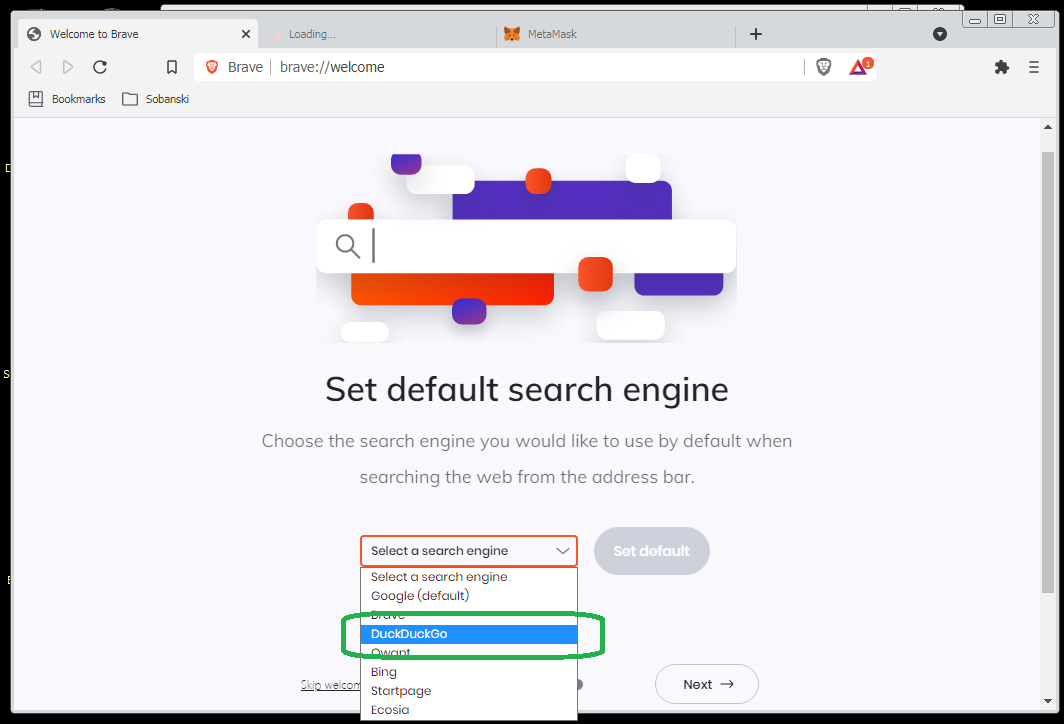 Register and Connect Crypto Wallet
In addition to security and privacy, the Brave browser pays you to surf the Internet.
In order to get rewards, you must link a Crypto wallet to your browser. Click Start Using Rewards to begin.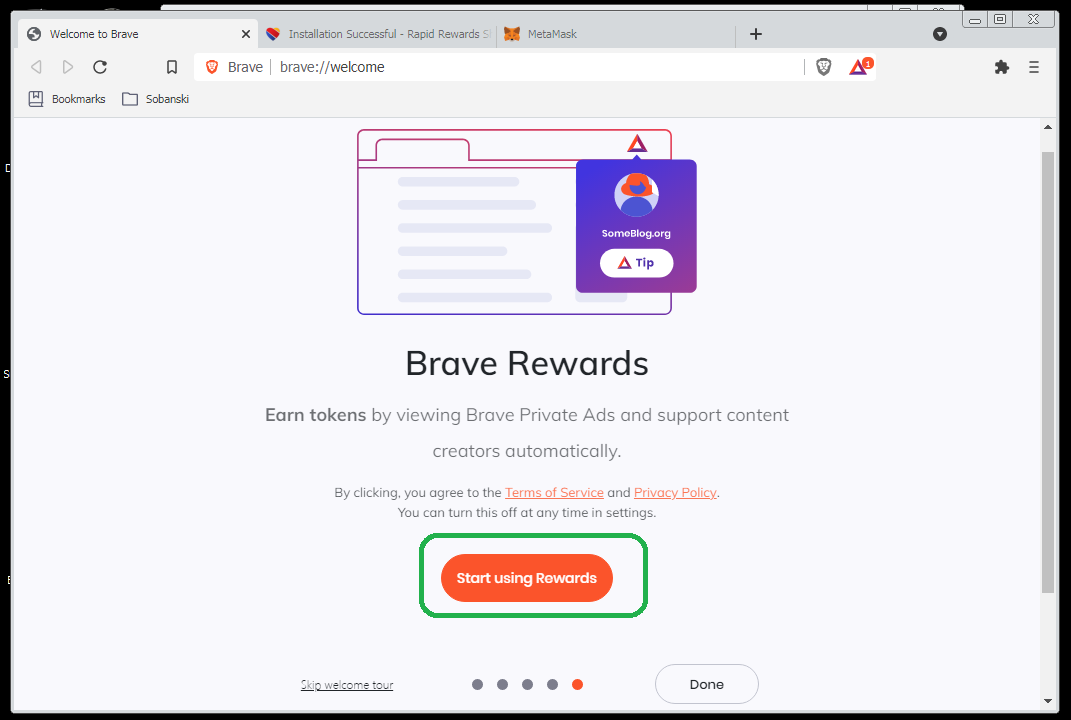 Brave provides a wizard that explains how to earn rewards. Either click through the tour or click Skip.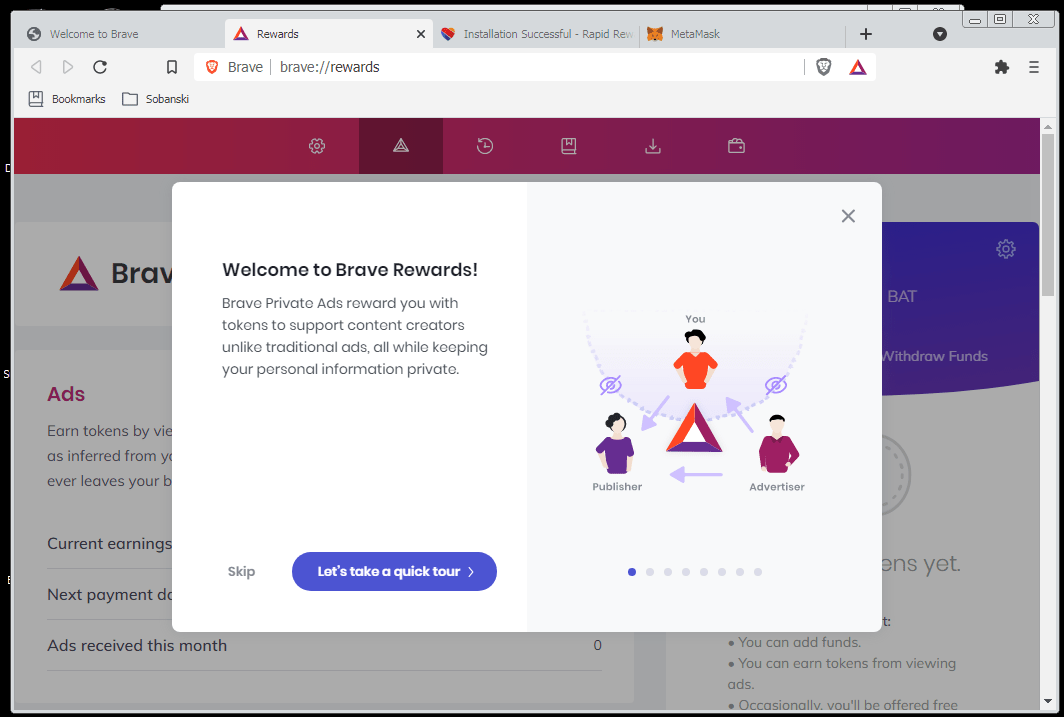 To register a wallet, click the Basic Attention Token (BAT) icon and then click verify wallet.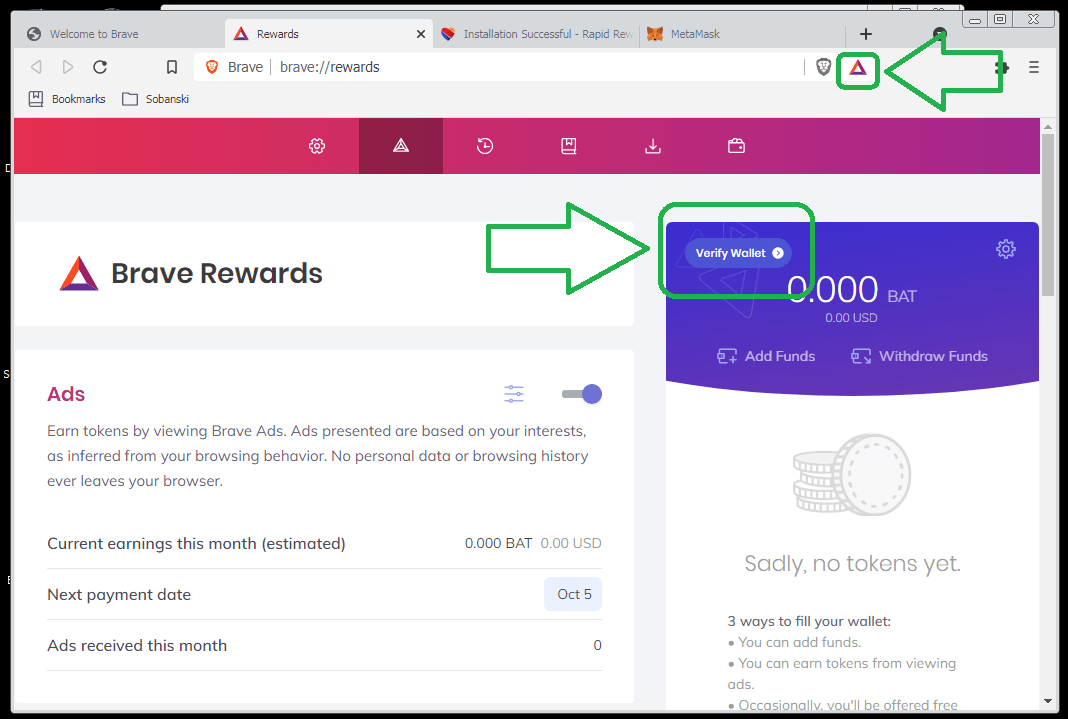 Click Continue.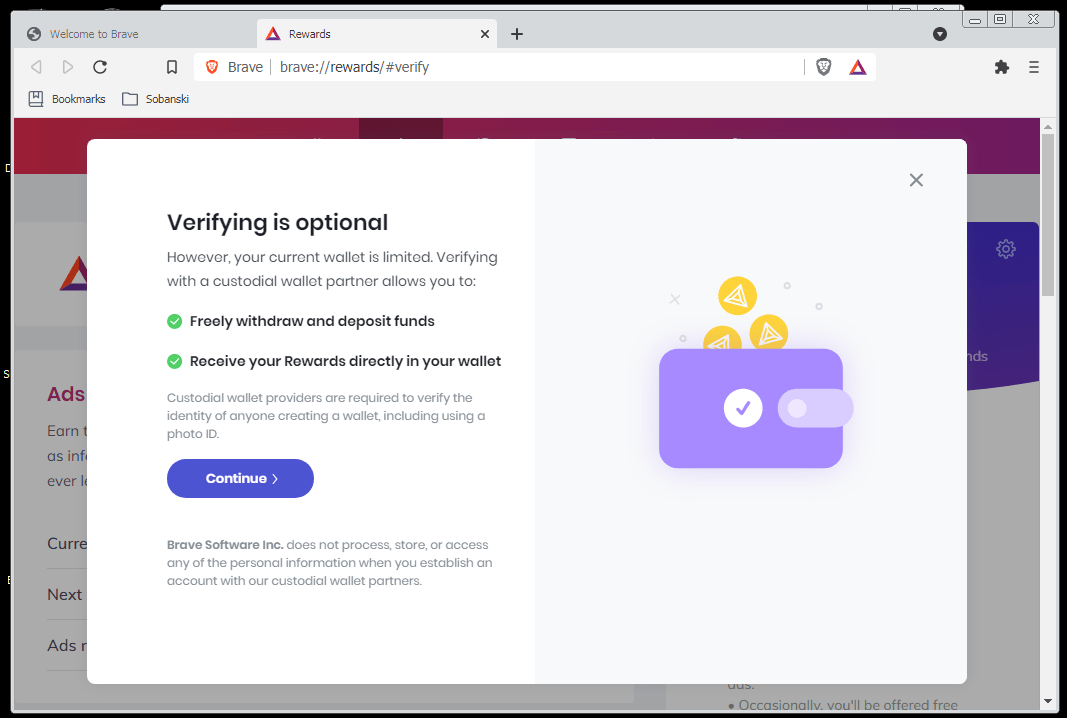 At present time, Brave provides the option to select either the Uphold or Gemini Crypto wallet.
In this blog post, I use Uphold, which also allows easy connection the Brave smart phone App.
Click Authorize.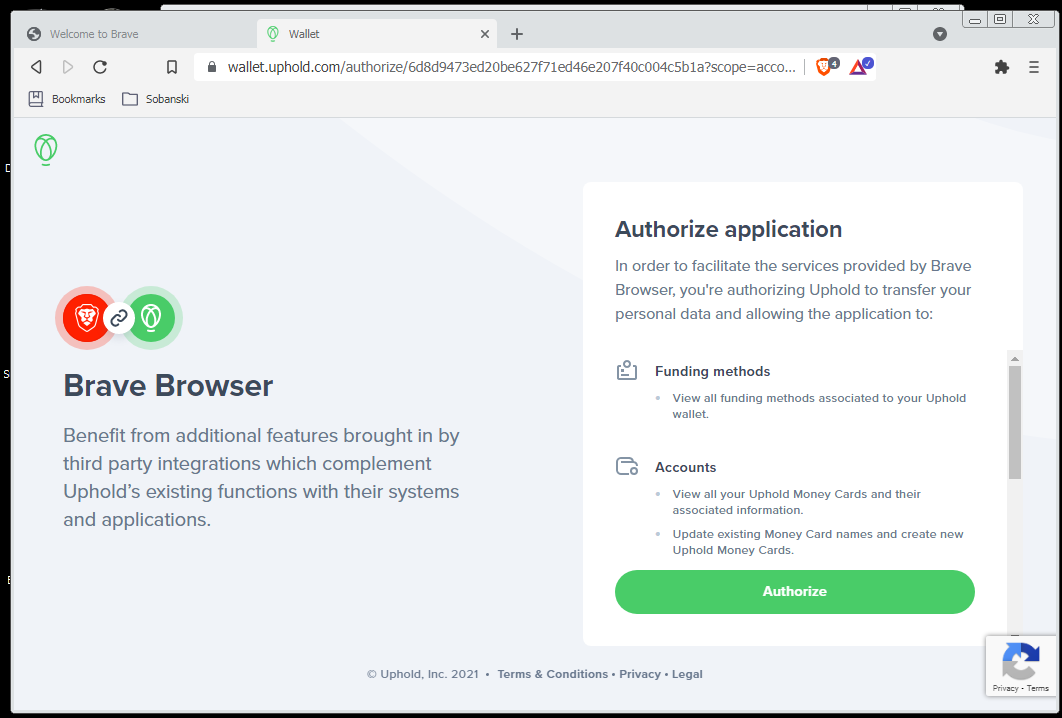 Click the green text that reads Sign up now and then fill out the web form.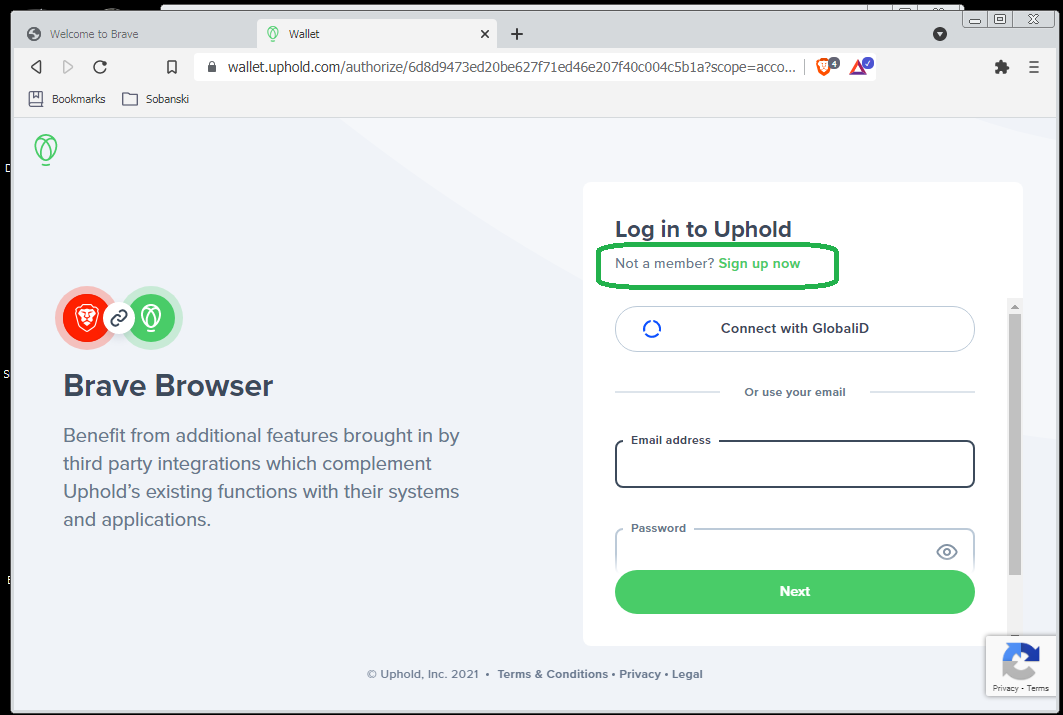 Brave redirects to an information screen.
At this point, you will need to check the email account of the address you entered into the web form.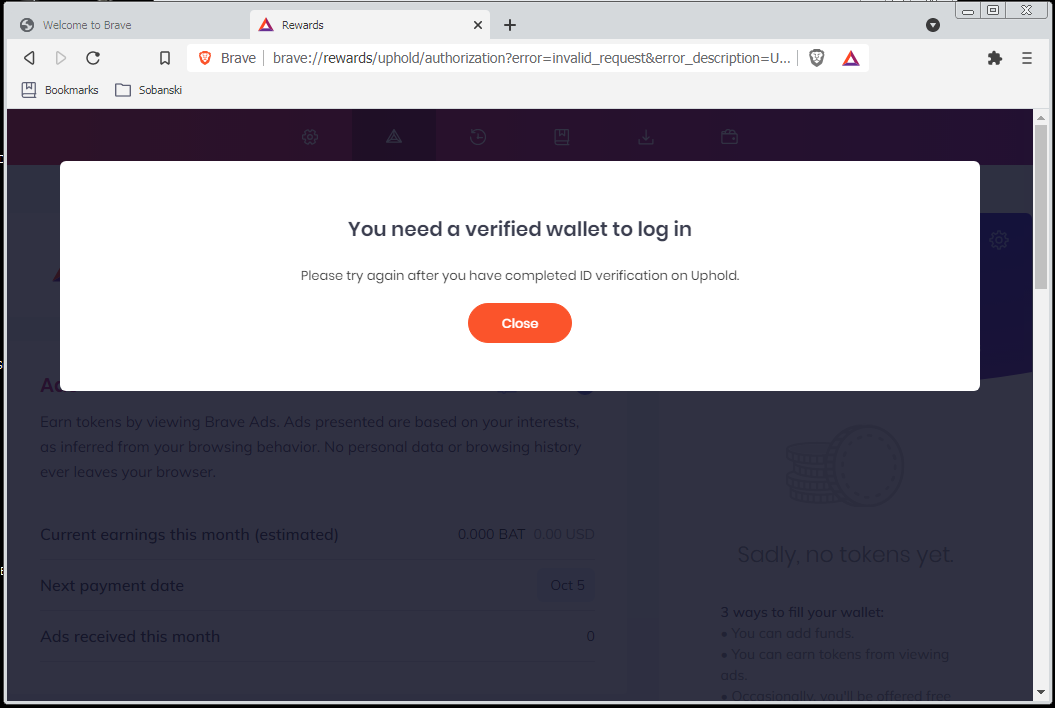 Find the Uphold email in your email client, open the email and then click Verify.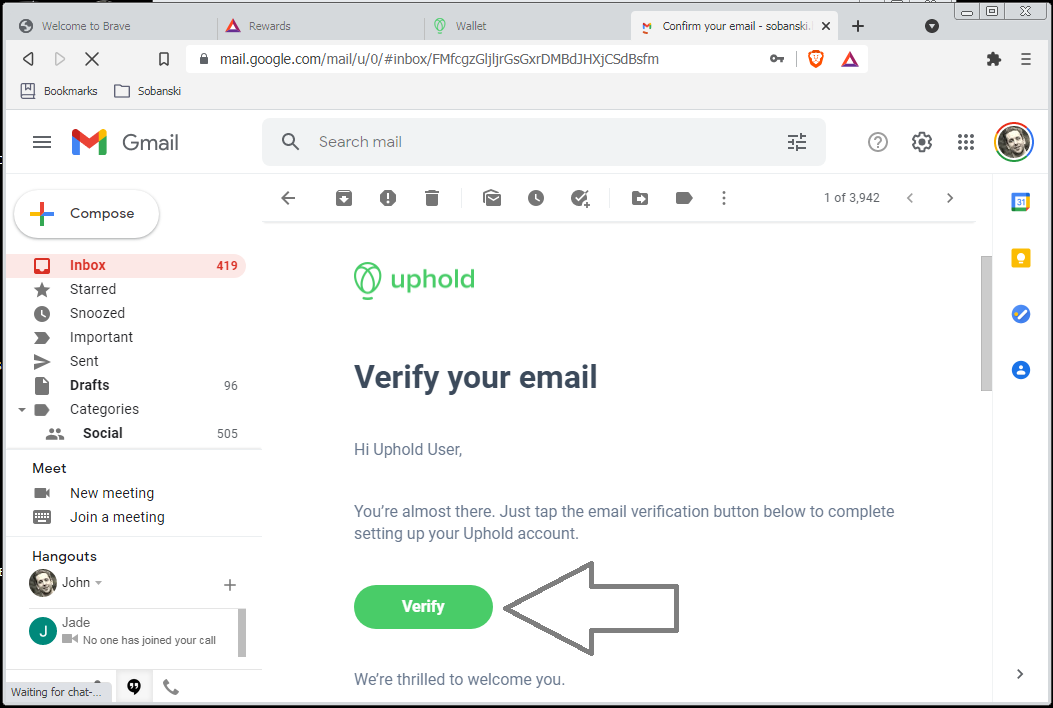 Uphold provides another wizard to create the crypto wallet.
Fill out the required information and complete the wizard.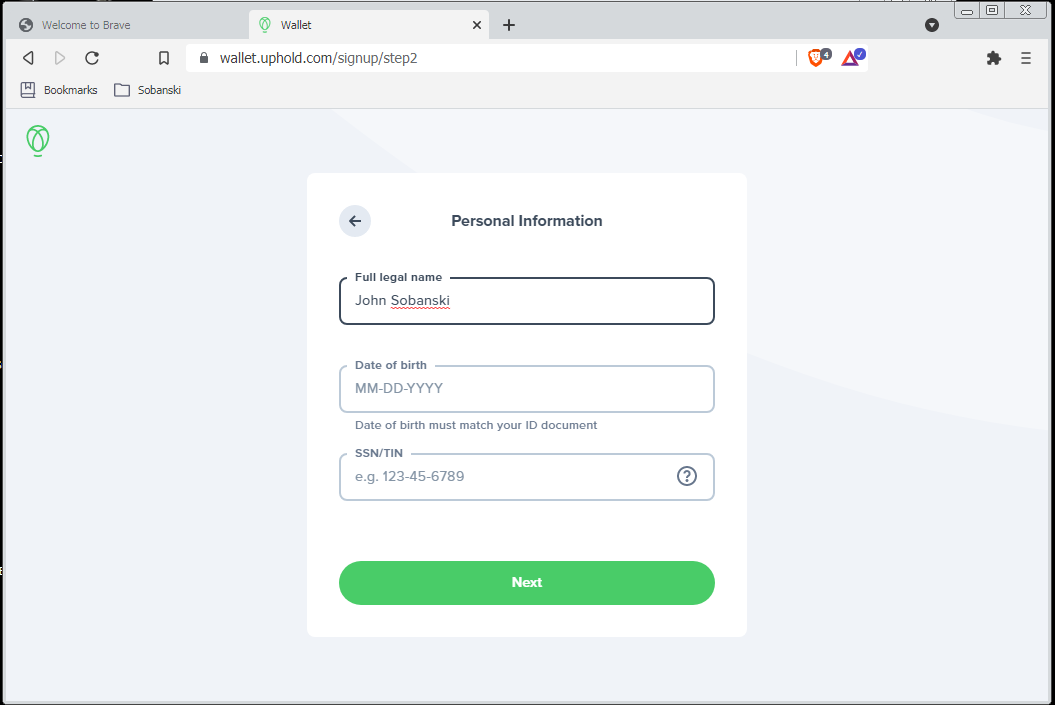 Uphold uses Multi Factor Authentication (MFA) to protect your registration.
Provide a cell phone number in order to receive a secret hash that you must enter to continue.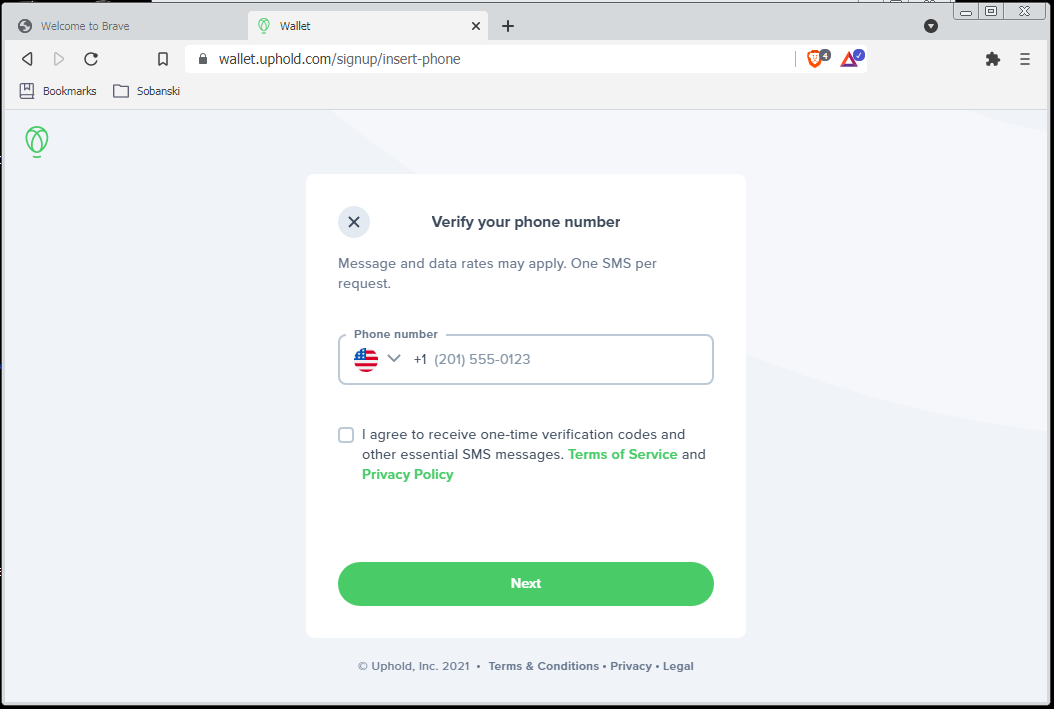 After you enter the MFA token, enter your home address.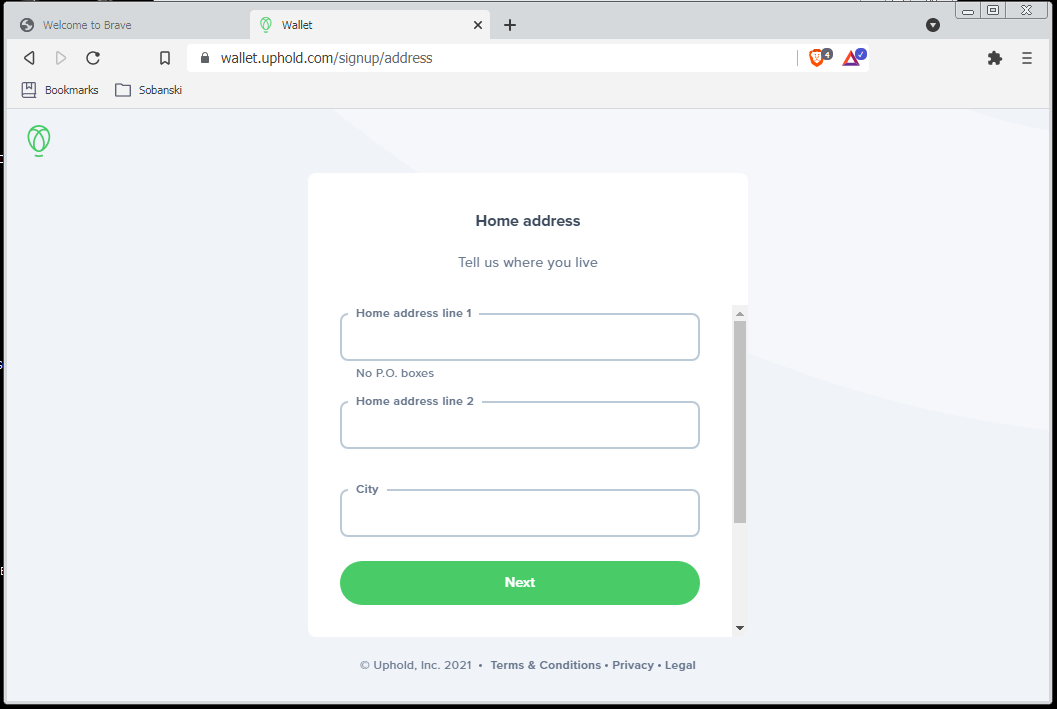 Uphold renders a success splash page and the option to connect external crypto wallets (Coinbase, Kraken, STEX).
Click Let's do this.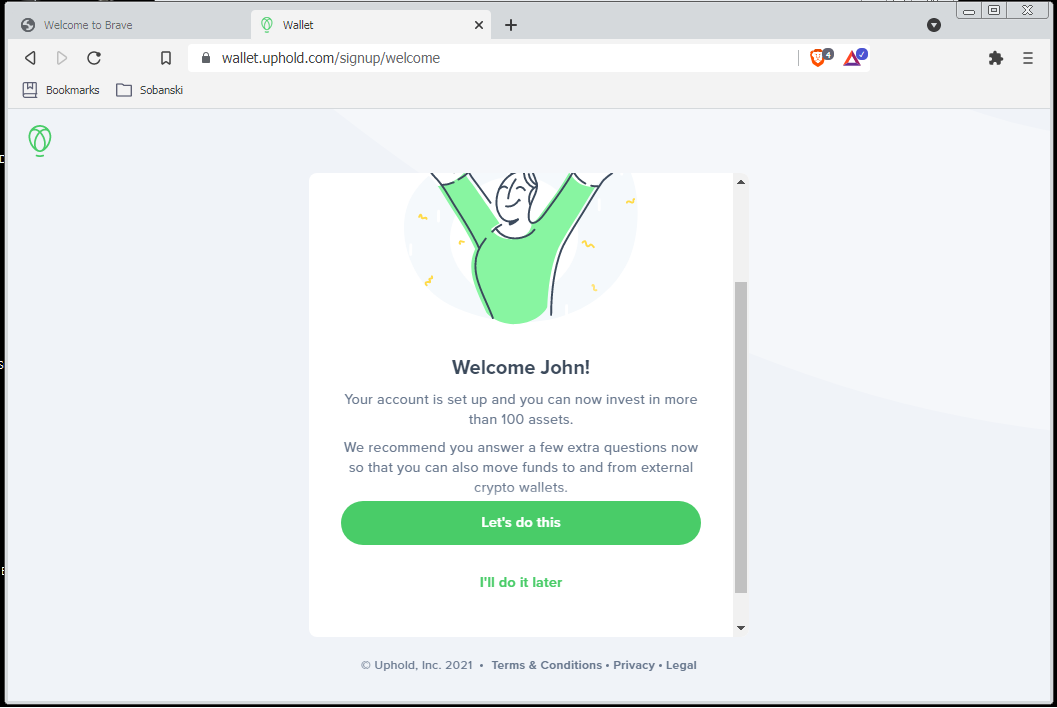 Answer and click through the required questions.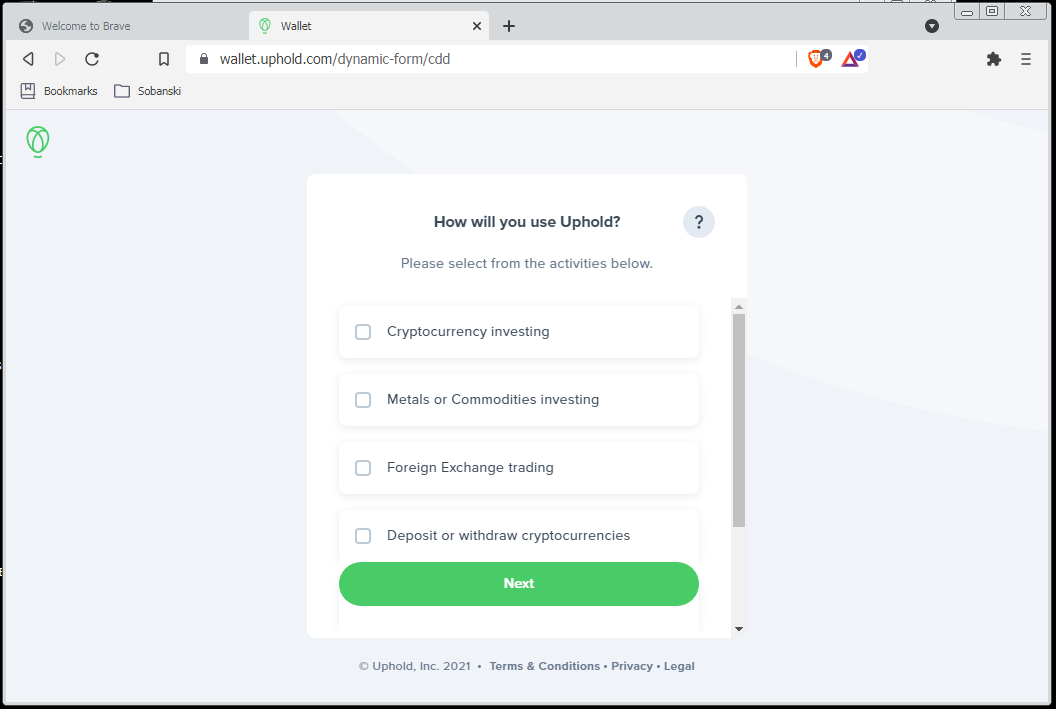 Once Uphold returns the Dashboard screen, click Verify your identity.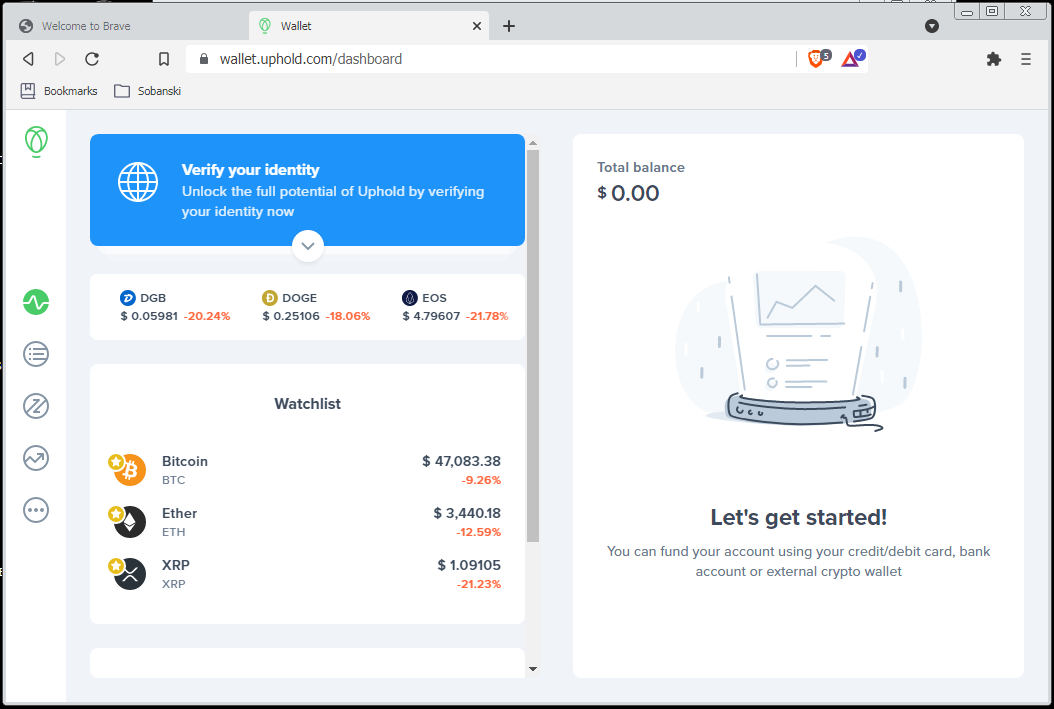 The web page provides a QR code. Take a picture of the code with your cell phone camera and then navigate to the displayed web page on your cell phone.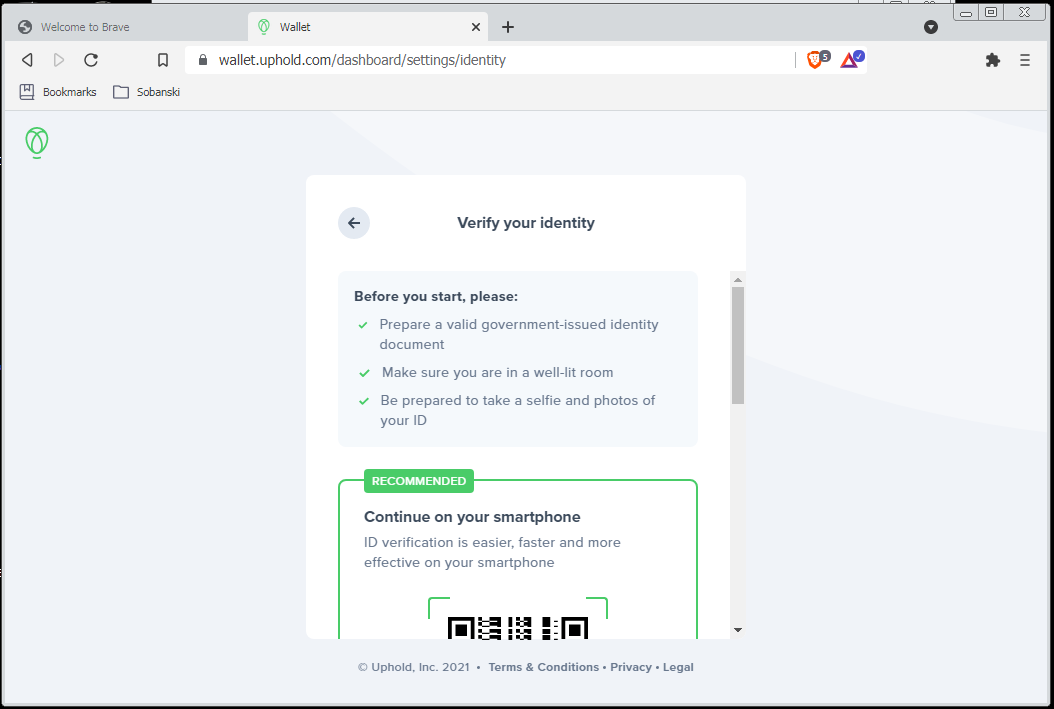 Switch over to your smartphone and follow the instructions.
You will need to snap pictures of your driver's license or passport.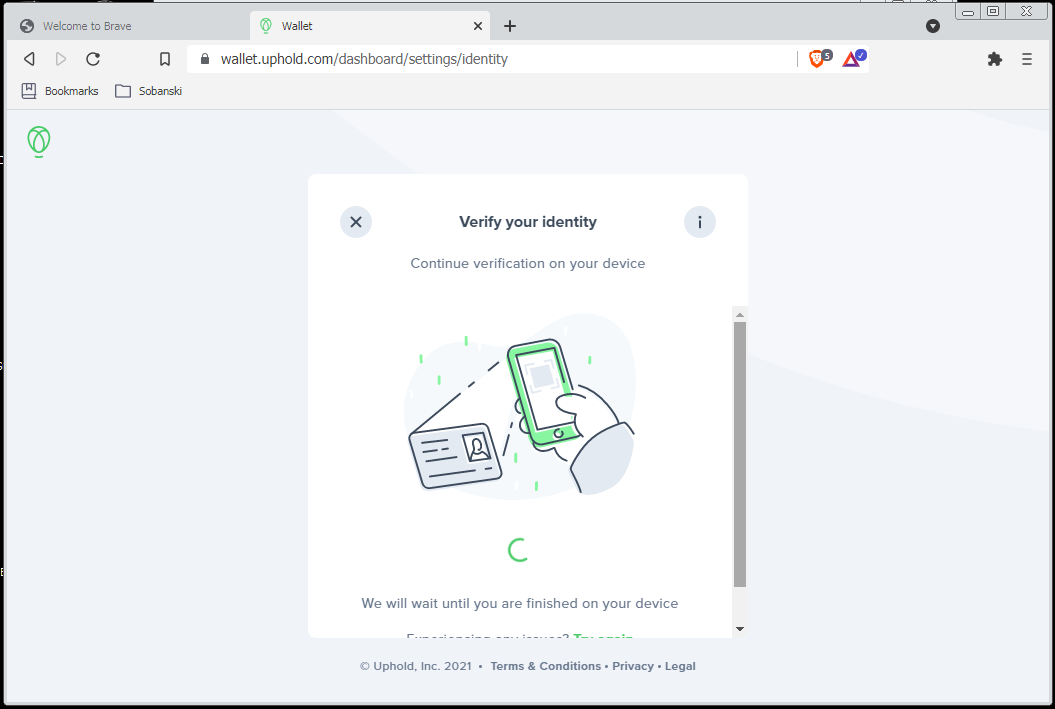 Once you complete the tasks on your smartphone, navigate back to your email client, locate the Uphold email and then click Link my bank account or card.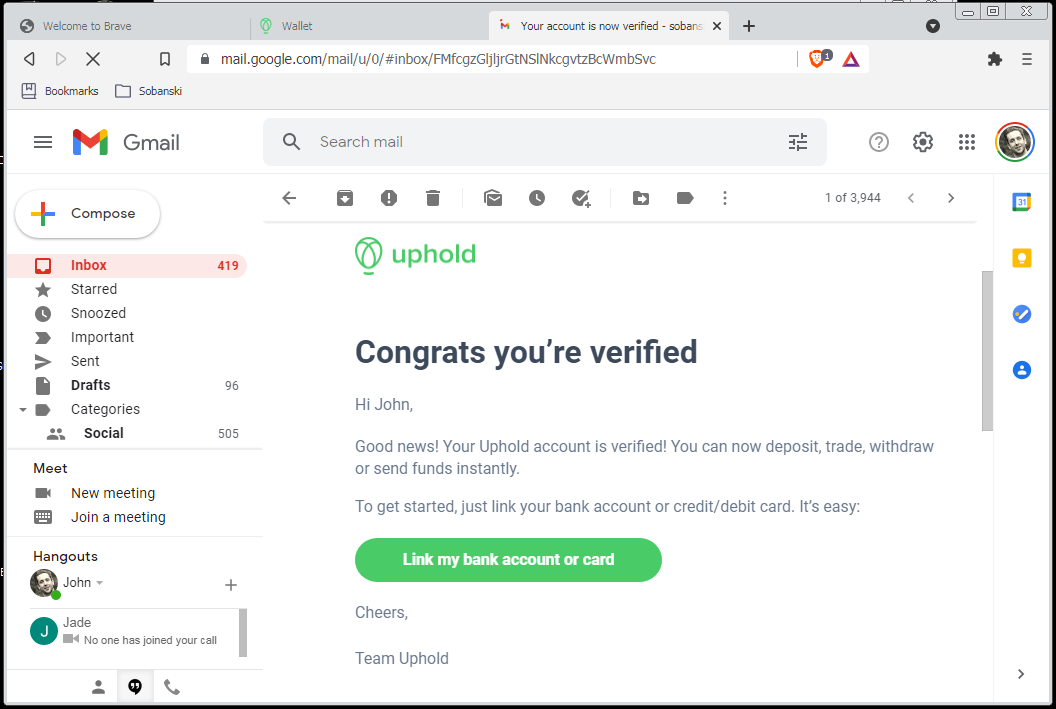 Enter a credit card to buy BAT, which allows you to tip other content creators.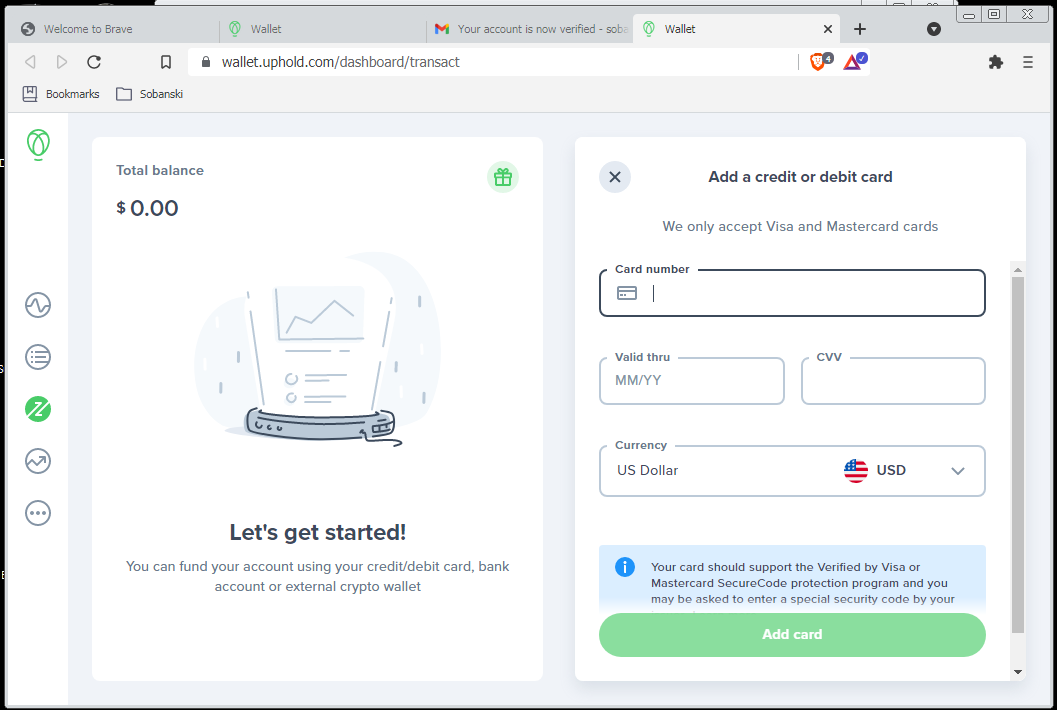 Enter the desired amount of BAT and complete the purchase.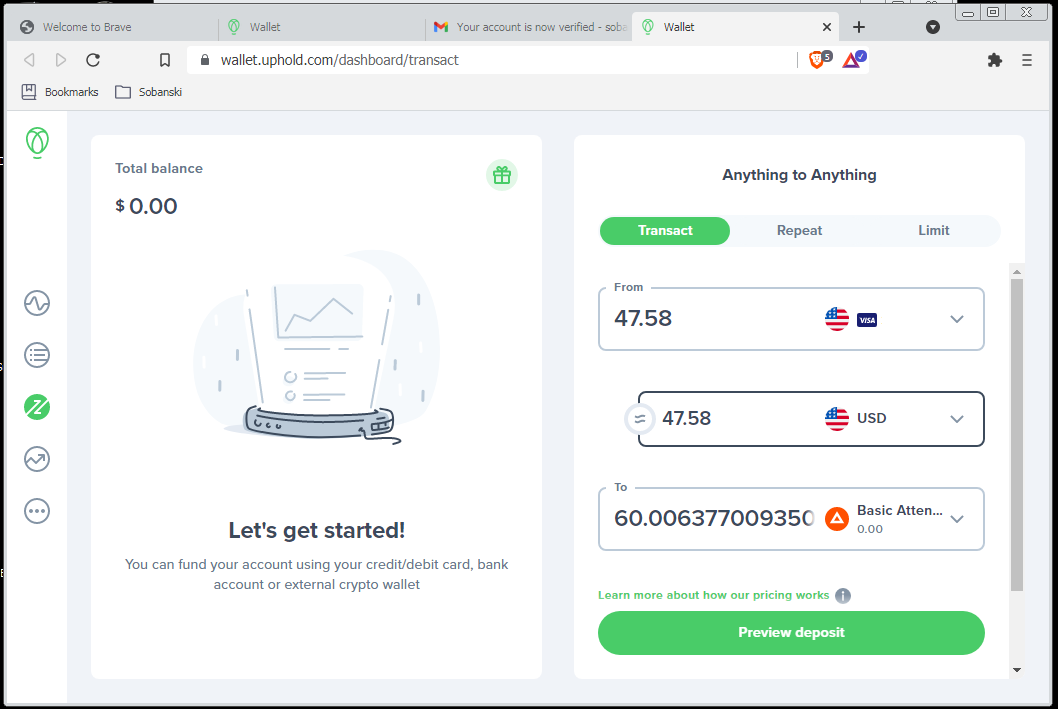 Click the BAT logo.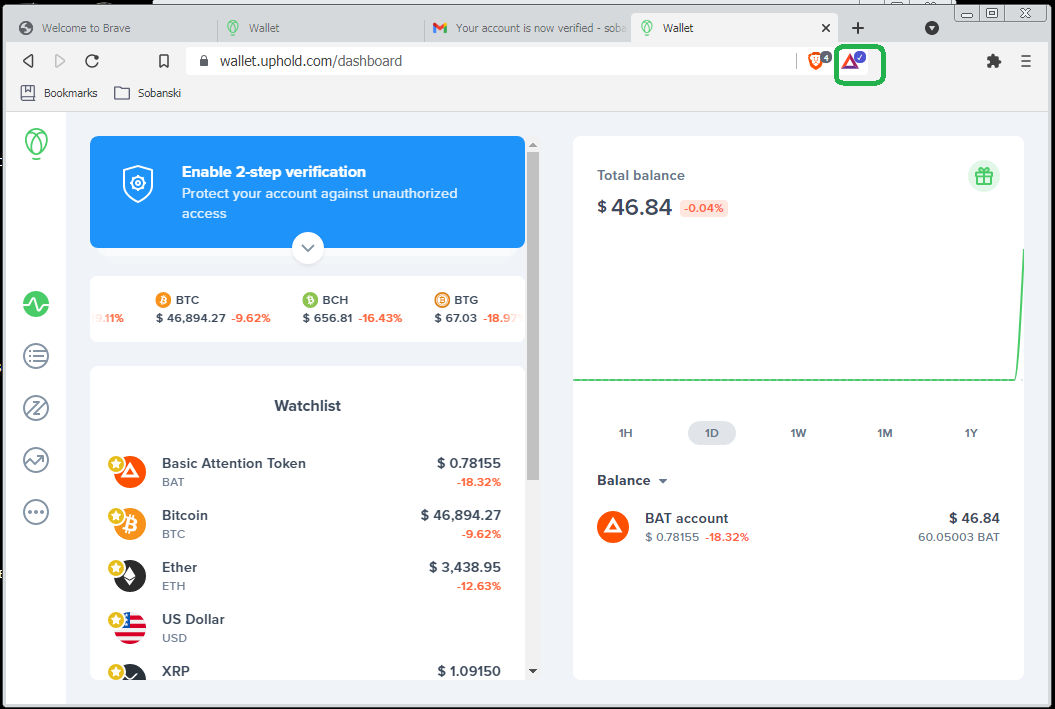 You will see a message that indicates that you connected a Verified Wallet to your brave browser.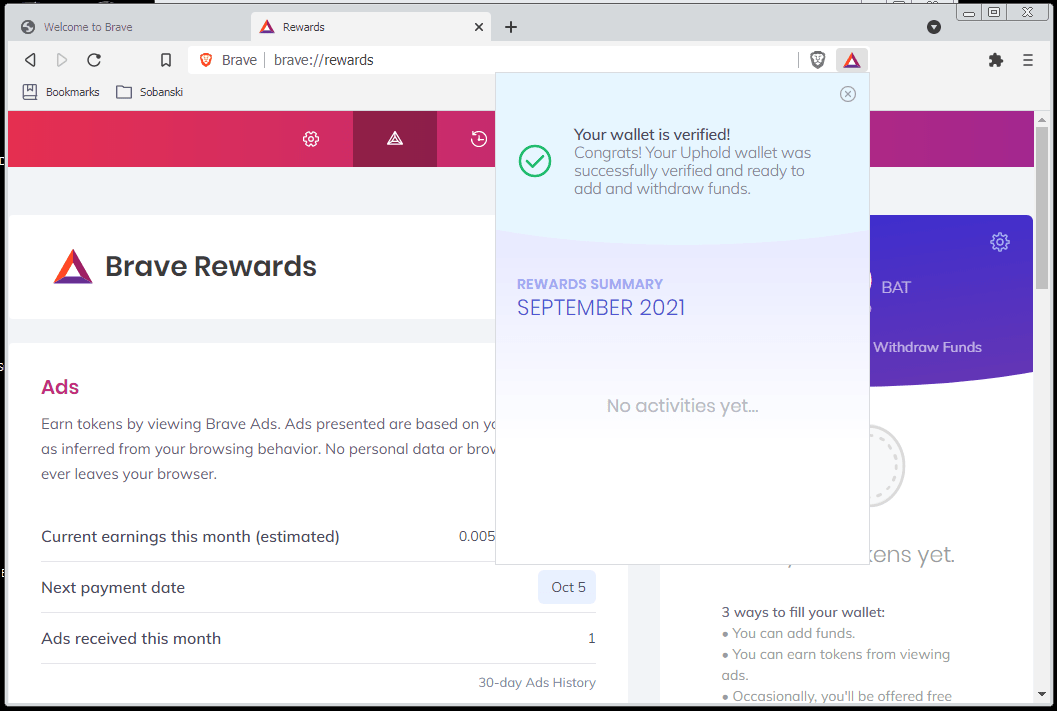 Close the message and select the Enable Two Factor Authentication button. Uphold will present a QR code. Use you smartphone to scan this code with the MFA app of your choice. I use Authy.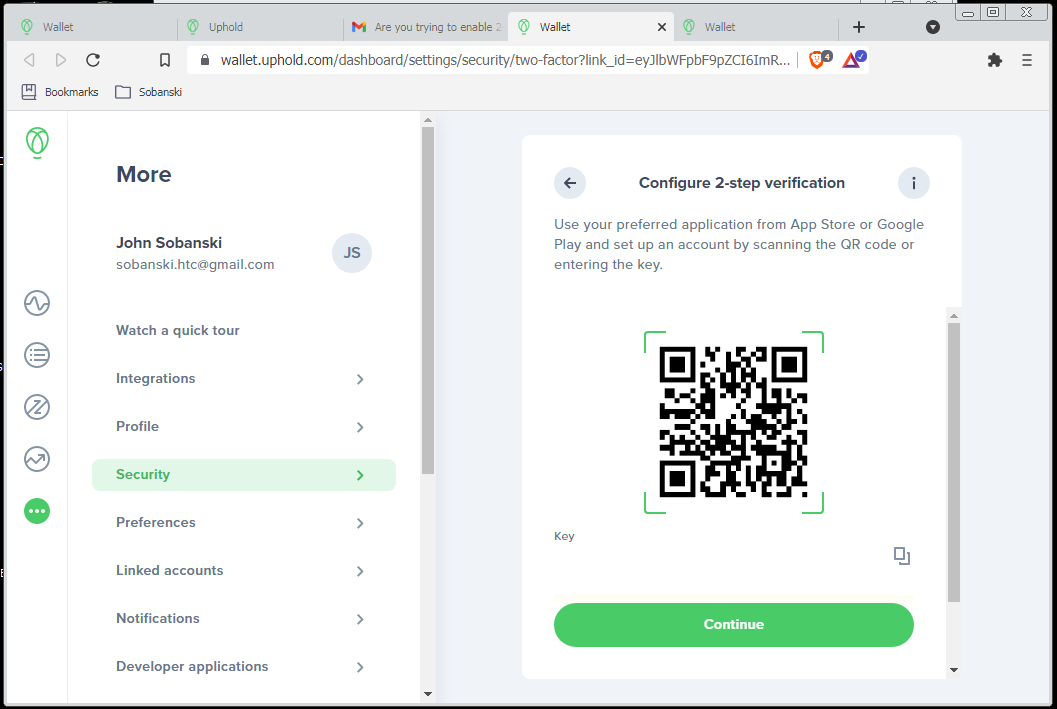 Register for Creator Rewards
At this point you installed the Brave browser and connected a crypto wallet. Now you will register with Brave to receive Creator Rewards.
Creator Rewards pay you crypto each time a visitor views your original content.
In a new tab, open the page creators.brave.com.
Click Sign Up and enter your email address.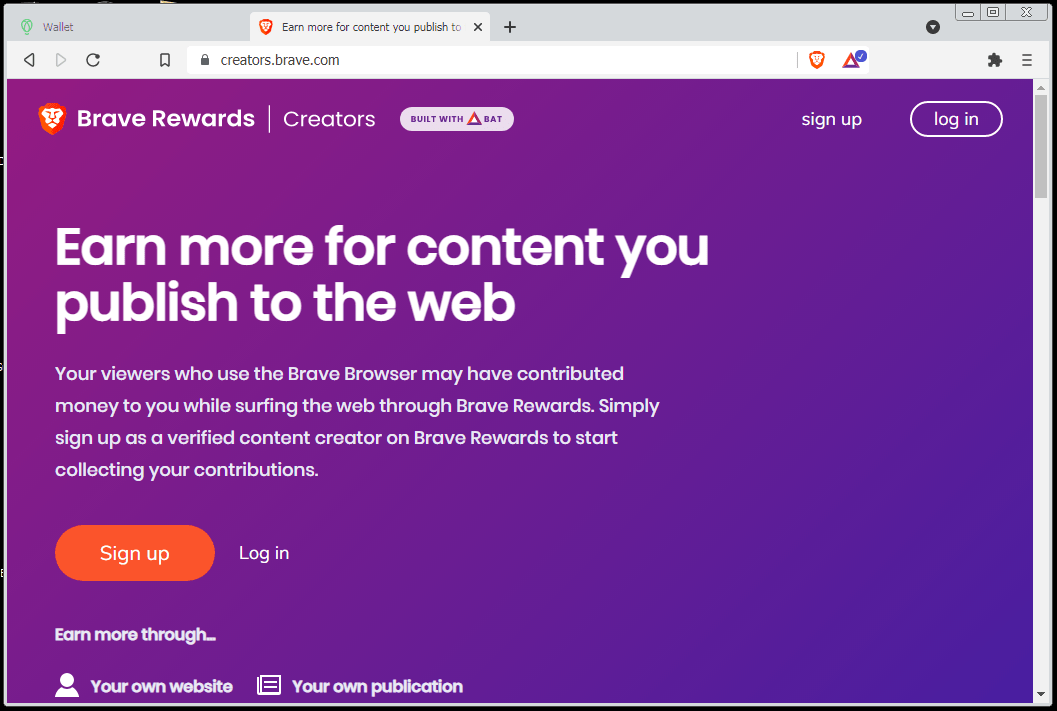 You do not need to configure a password with this site, you authenticate via a link sent to your email address.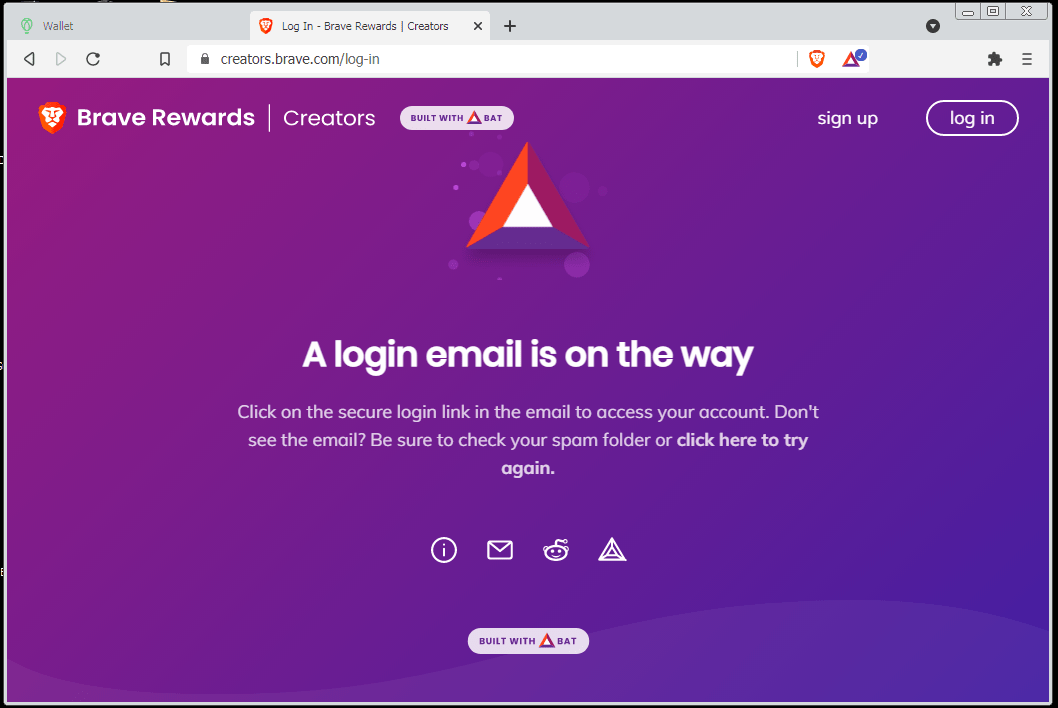 Navigate to your email client once more, locate the Brave Rewards Creators email and then click Verify email.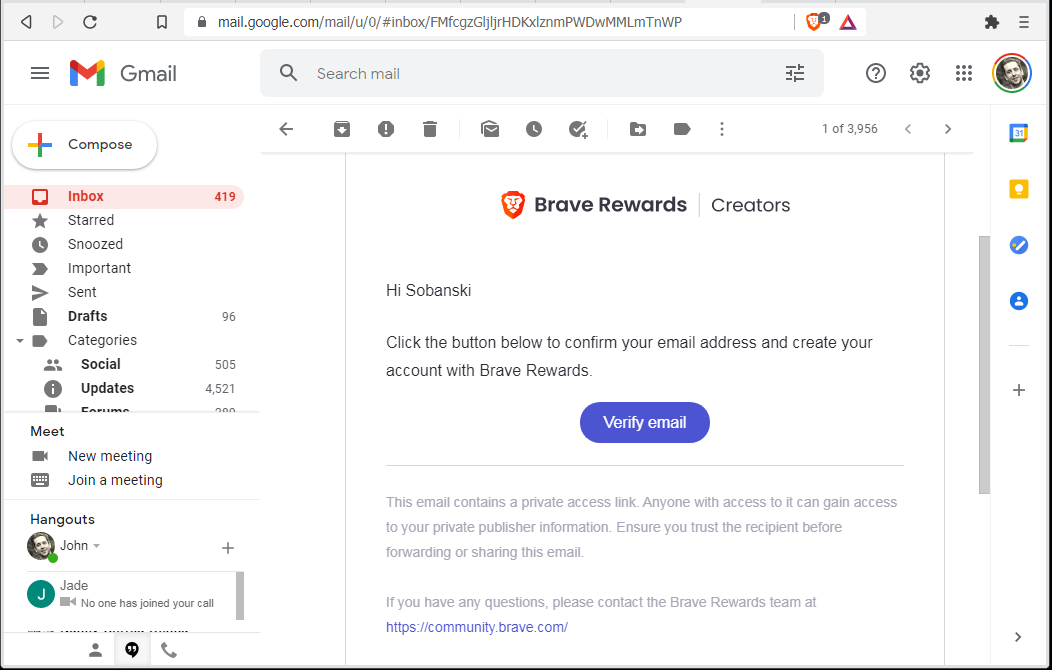 Enter your name and click Sign Up.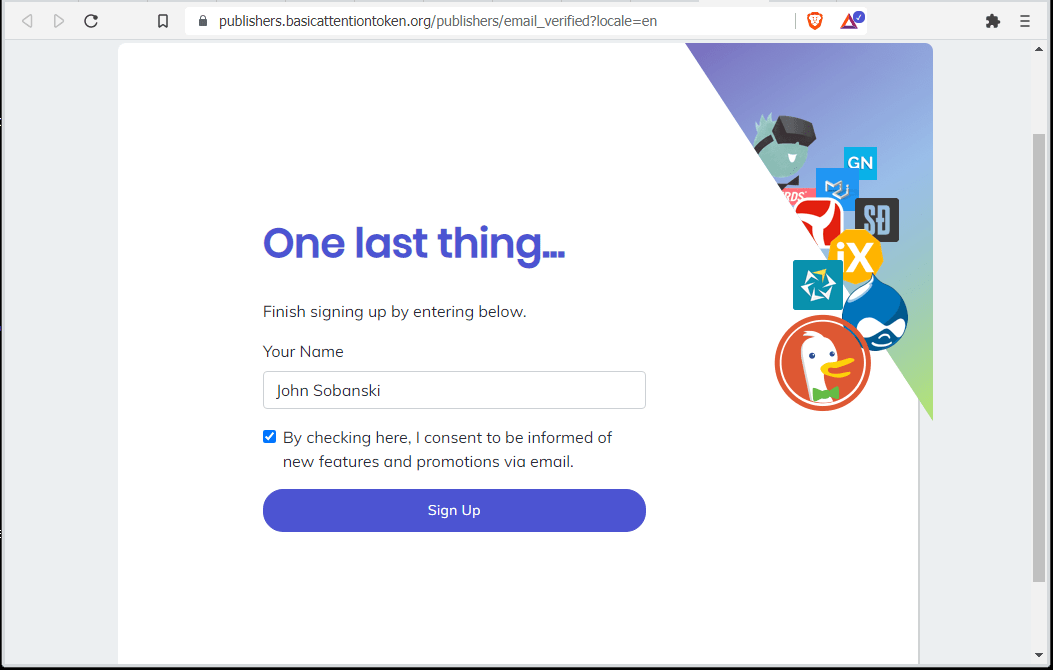 Brave Rewards lists the actions you need to take in order to complete the registration process.
Click OK.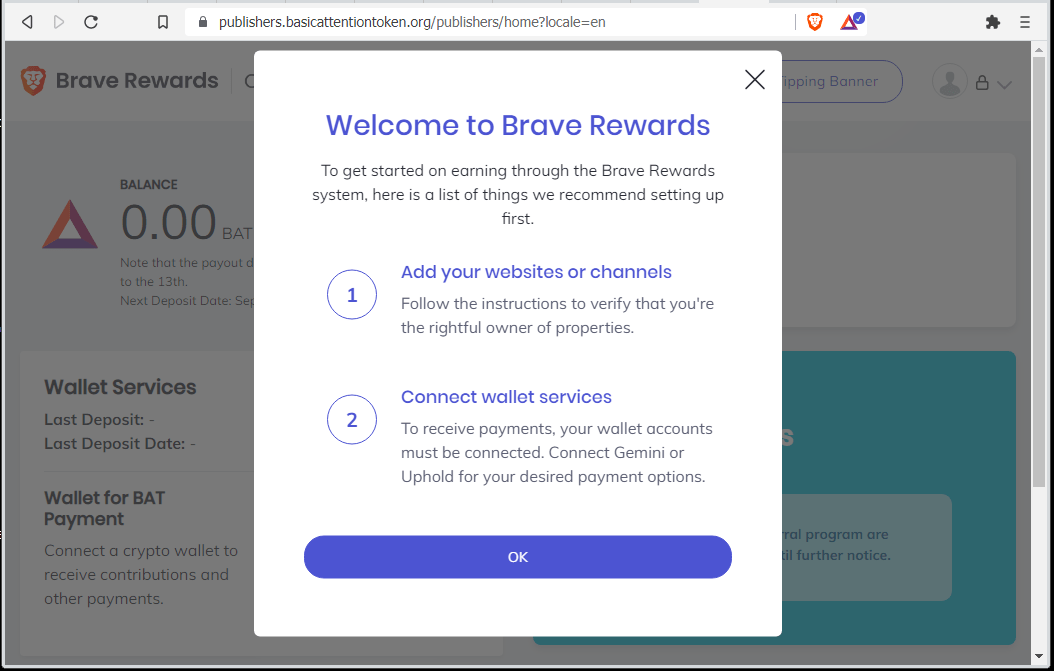 Pick your payout Crypto. I selected BAT.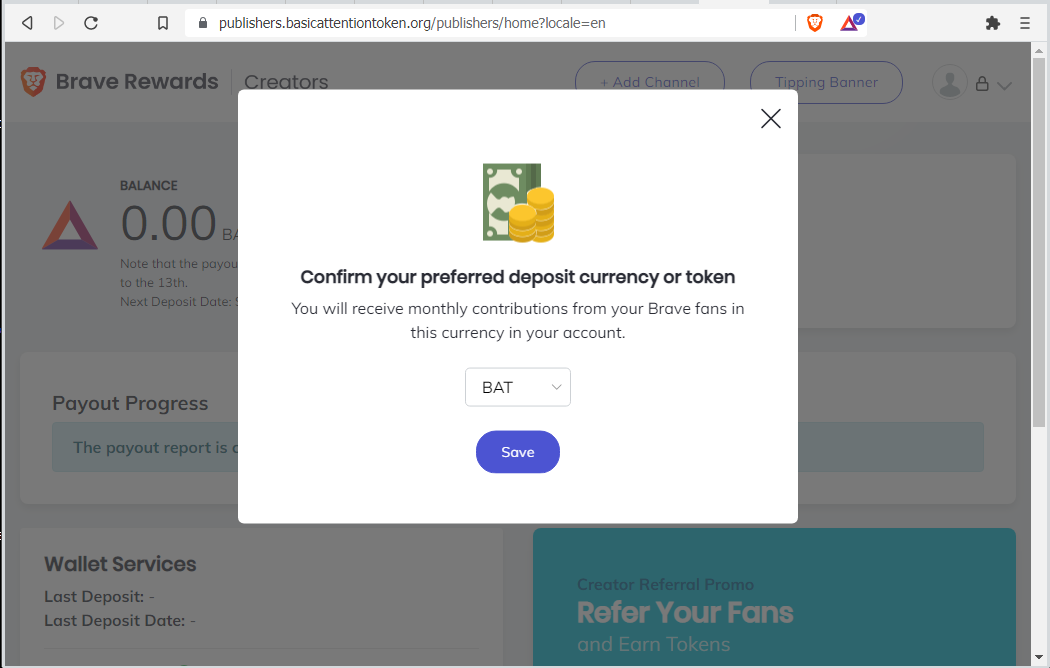 Now select the channel medium. Since I have a website I select Website.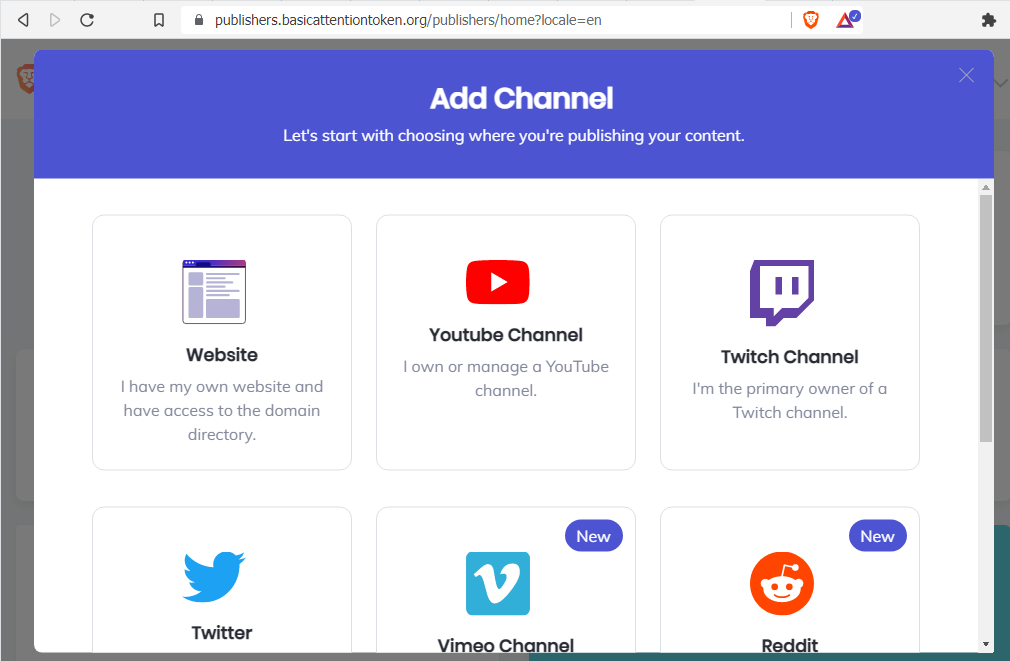 Enter the domain name of the website you own.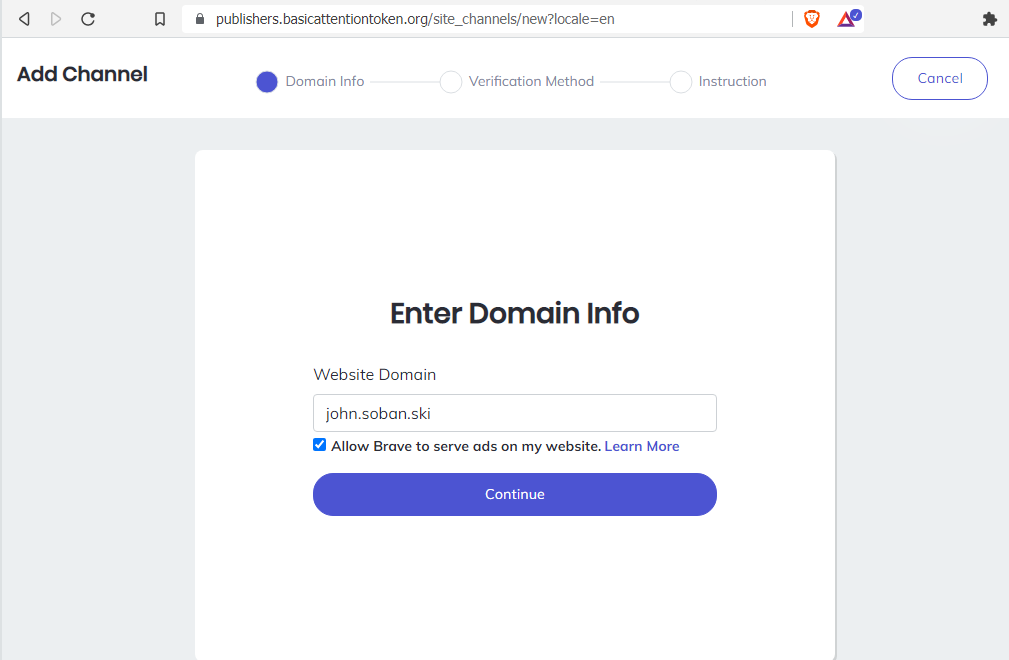 Now download the verification file.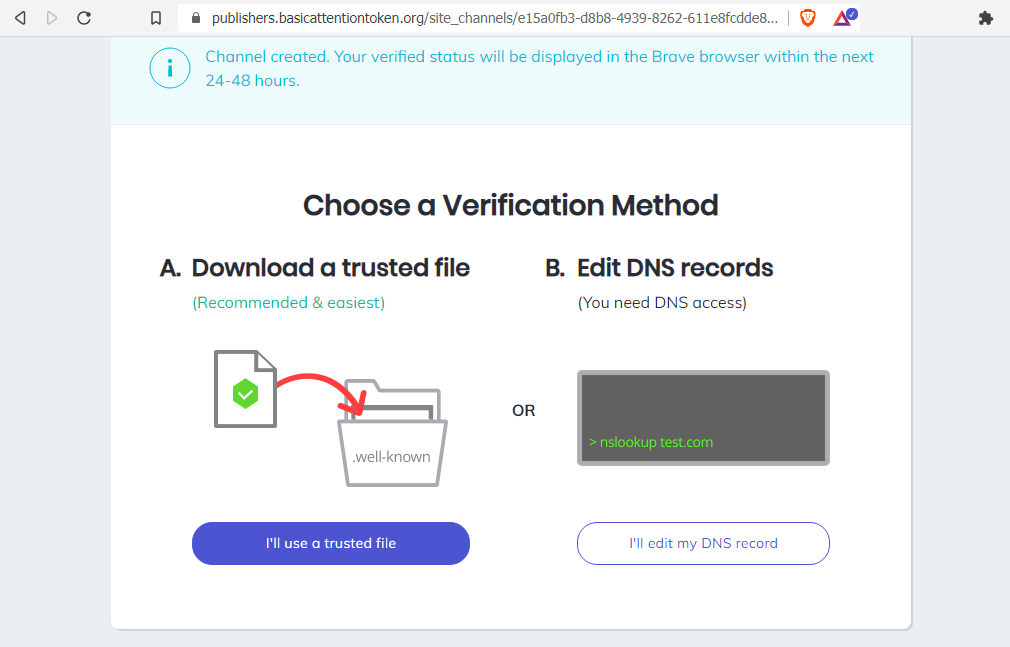 Brave provides a token. Upload this token to your website. I did so via the following command:
$

 

aws

 

s3

 

cp

 

brave

-

rewards

-

verification

.

txt

 

s3

:

//

john

.

soban

.

ski

/.

well

-

known

/

brave

-

verification

.

txt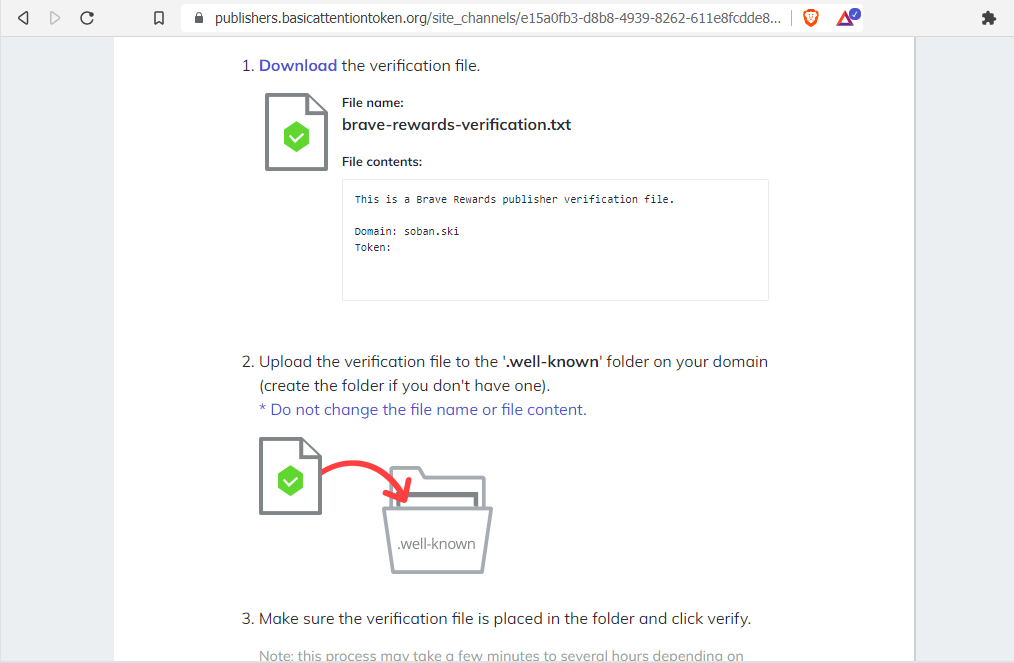 Brave verified my site within minutes.
After verification, my publishers page listed my new channel.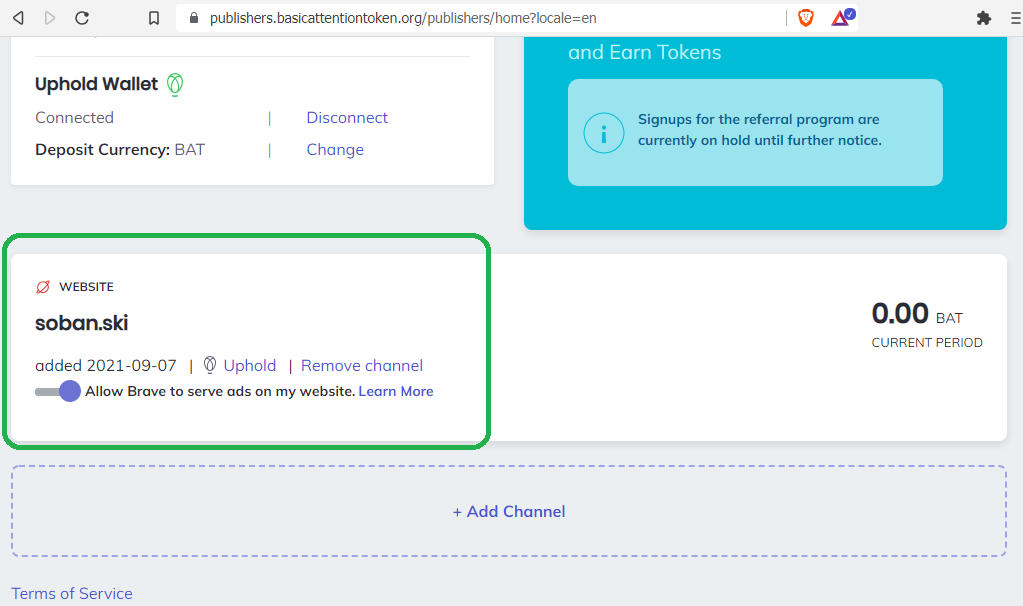 Conclusion
The Brave project provides a new exciting way to receive a commission for web traffic.
Please comment below with a link to your Brave Rewards enabled website and I will leave you a tip!